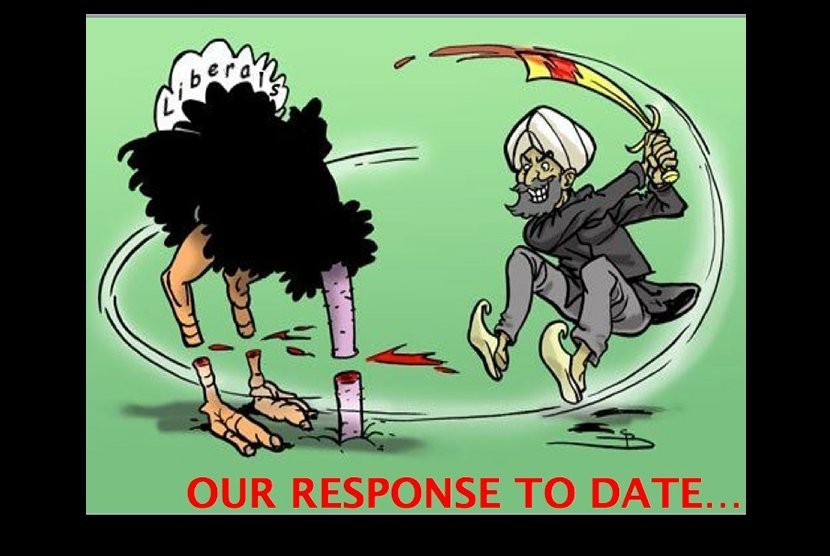 Did you know?
If Muhammad astray ( QS 34:50 ) then all the Muslims must go to hell ( QS 19:71 ). HA...7X
QS 34:
50.
Say: "If I am astray, I only stray to the loss of my own soul:
but if I
receive guidance, it is because of the inspiration of my Lord to me: it is He
Who hears all things, and is [ever] near."
The above verse clearly wrong because when Muhammad perverted the billions of Muslims must go to hell together with Muhammad.
QS 19:
70. And certainly

We know best those who are most worthy of being burned
71.

Not one of you but will pass over it: this is, with thy Lord, a Decree which
So if you are a Muslim or someone who is interested in Islam it is a good idea to investigate in earnest.
So if you are a Muslim or someone who is interested in Islam it is a good idea to investigate in earnest about Allah SWT, Muhammad and Islam.
To investigate about Allah, Muhammad and Islam, then you should investigate the Qur'an and Hadith and biographies of Muhammad, Sirah nabawiyah.
After investigating then you will be surprised to find another Muhammad.
So far, you have been duped by Islamic scholars. Because Muhammad is indeed a very wicked impostor, savage and vindictive. While you are taught that Muhammad was a good, noble, grand and deserves to be a role model.
The question now is how do we know that Muhammad astray?
The answer is in the Koran.
If you investigate the Qur'an then you will know that the author is an idiot because the Qur'an contradicts itself. Ha ... 7x
QS 4:82.

Do they not consider the Qur'an [with care]? Had it been from other Than
Allah, they would surely have found therein Much discrepancy.
The fact shows that there are hundreds of verses contradict one another.
In addition you will be surprised to see the fraud committed by Allah to Muhammad and his army. Ha ... 7x
QS 3:124. Remember thou saidst to the Faithful: "Is it not enough for you that Allah
should help you with three thousand angels [Specially] sent down?
125. "Yea, - if ye remain firm, and act aright, even if the enemy should rush
here on you in hot haste, your Lord would help you with five thousand angels
Making a terrific onslaught.
126. Allah made it but a message of hope for you, and an assurance to your
hearts: [in any case] there is no help except from Allah. The Exalted, the Wise:
QS 8:9. Remember ye implored the assistance of your Lord, and He answered you: "I
will assist you with a thousand of the angels, ranks on ranks."
10. Allah made it but a message of hope, and an assurance to your hearts: [in
any case] there is no help except from Allah: and Allah is Exalted in Power,
QS 8:39. And fight them on until there is no more tumult or oppression, and there
prevail justice and faith in Allah altogether and everywhere; but if they cease,
verily Allah doth see all that they do.
40. If they refuse, be sure that Allah is your Protector - the best to protect
41. And know that out of all the booty that ye may acquire [in war], a fifth
share is assigned to Allah,- and to the Messenger, and to near relatives,
orphans, the needy, and the wayfarer,- if ye do believe in Allah and in the
revelation We sent down to Our servant on the Day of Testing,- the Day of the
meeting of the two forces. For Allah hath power over all things.
42. Remember ye were on the hither side of the valley, and they on the farther
side, and the caravan on lower ground than ye. Even if ye had made a mutual
appointment to meet, ye would certainly have failed in the appointment: But
[thus ye met], that Allah might accomplish a matter already enacted; that those
who died might die after a clear Sign [had been given], and those who lived
might live after a Clear Sign [had been given]. And verily Allah is He Who
heareth and knoweth [all things].
43. Remember in thy dream Allah showed them to thee as few: if He had shown them
to thee as many, ye would surely have been discouraged, and ye would surely have
disputed in [your] decision; but Allah saved [you]: for He knoweth well the
[secrets] of [all] hearts.
44. And remember when ye met, He showed them to you as few in your eyes, and He
made you appear as contemptible in their eyes: that Allah might accomplish a
matter already enacted. For to Allah do all questions go back [for decision].
45. O ye who believe! When ye meet a force, be firm, and call Allah in
remembrance much [and often]; that ye may prosper:
If Allah is God Almighty and He does not need to cheat. Correct?
HA,,,7X
The question now is if Muhammad, Allah be deceived lover, what can you expect from Allah SWT?. Ha ... 7x
So apostasy from Islam before it's too late. Dead in Islam you would go to hell according to the QS 19:71. Ha ... 7x
The Lord Jesus loves you.
=====================
Tahukah anda ?
Jika Muhammad sesat ( QS 34:50 ) maka semua umat islam harus masuk neraka ( QS 19:71 ). HA...7X
QS 34:
50.
Katakanlah: "Jika aku sesat maka sesungguhnya aku sesat atas
kemudaratan diriku sendiri;
dan jika aku mendapat petunjuk maka itu
adalah disebabkan apa yang diwahyukan Tuhanku kepadaku.

Sesungguhnya
Dia Maha Mendengar lagi

Maha Dekat

".
Ayat di atas jelas salah besar karena saat Muhammad sesat maka miliaran umat Islam harus masuk neraka bersama-sama dengan Muhammad.
QS 19:
70. Dan kemudian
Kami sungguh lebih mengetahui orang-orang yang
seharusnya dimasukkan ke dalam neraka.
71.

Dan tidak ada seorang pun dari padamu, melainkan mendatangi neraka
itu. Hal itu bagi Tuhanmu adalah suatu kemestian yang sudah ditetapkan.
Jadi jika anda adalah umat Islam atau seseorang yang tertarik kepada Islam maka ada baiknya anda menyelidiki dengan sungguh-sungguh tentang Allah SWT, Muhammad dan Islam.
Ingatlah ini.
Untuk menyelidiki tentang Allah SWT, Muhammad dan Islam maka anda harus menyelidiki Alquran dan Hadis dan biografi Muhammad, Sirah nabawiyah.
Setelah menyelidiki maka anda akan kaget ketika menemukan Muhammad yang lain.
Selama ini anda telah ditipu oleh ulama Islam. Sebab Muhammad yang sesungguhnya adalah seorang penipu yang sangat jahat, biadab, dan pendendam. Sedangkan anda diajarkan kalau Muhammad adalah seorang yang baik, mulia, agung dan pantas dijadikan suri teladan.
Pertanyaannya sekarang adalah bagaimana kita tahu kalau Muhammad sesat ?
Jawabannya ada di dalam Alquran.
Jika anda menyelidiki Alquran maka anda akan tahu kalau pengarangnya adalah seorang yang idiot karena Alquran bertentangan dengan dirinya sendiri. Ha...7x
QS 4:
82.
Maka apakah mereka tidak memperhatikan Al Qur'an? Kalau kiranya Al
Qur'an itu bukan dari sisi Allah, tentulah mereka mendapat pertentangan
Fakta memperlihatkan ada ratusan ayat yang bertentangan satu dengan lainnya.
Selain itu anda akan kaget melihat penipuan yang dilakukan oleh Allah SWT terhadap Muhammad dan pasukannya. Ha...7x
QS 3:124. (Ingatlah), ketika kamu mengatakan kepada orang mukmin:

"Apakah
tidak cukup bagi kamu Allah membantu kamu dengan

tiga ribu malaikat
yang diturunkan (dari langit)?"
125.

ya (cukup), jika kamu bersabar dan bertakwa dan mereka datang
menyerang kamu dengan seketika itu juga, niscaya Allah menolong kamu
dengan

lima ribu Malaikat

yang memakai tanda.
126.

Dan

Allah tidak menjadikan pemberian bala-bantuan itu

melainkan
sebagai kabar gembira bagi (kemenangan) mu, dan agar tenteram hatimu
karenanya. Dan kemenanganmu itu hanyalah dari Allah Yang Maha Perkasa
QS 8:9.
(Ingatlah), ketika kamu memohon pertolongan kepada Tuhanmu, lalu
diperkenankan-Nya bagimu: "

Sesungguhnya Aku akan mendatangkan bala
bantuan kepadamu dengan seribu malaikat yang datang berturut-turut".
10. Dan Allah tidak menjadikannya (mengirim bala bantuan itu),
melainkan sebagai kabar gembira dan agar hatimu menjadi tenteram
karenanya. Dan kemenangan itu hanyalah dari sisi Allah. Sesungguhnya
Allah Maha Perkasa lagi Maha Bijaksana.
QS 8:
39.
Dan perangilah mereka, supaya jangan ada fitnah dan supaya agama
itu semata-mata untuk Allah.

Jika mereka berhenti (dari kekafiran),
maka sesungguhnya Allah Maha Melihat apa yang mereka kerjakan.
40. Dan jika mereka berpaling, maka ketahuilah bahwasanya Allah
Pelindungmu.

Dia adalah sebaik-baik Pelindung dan sebaik-baik Penolong.
41.

Ketahuilah, sesungguhnya apa saja yang dapat kamu peroleh sebagai
rampasan perang, maka sesungguhnya

seperlima

untuk Allah, Rasul,
kerabat Rasul, anak-anak yatim, orang-orang miskin dan ibnusabil, jika
kamu beriman kepada Allah dan kepada apa yang Kami turunkan kepada
hamba Kami (Muhammad) di

hari Furqaan,

yaitu di hari bertemunya dua
pasukan. Dan Allah Maha Kuasa atas segala sesuatu.
42. (Yaitu di hari) ketika kamu berada di pinggir lembah yang dekat dan
mereka berada di pinggir lembah yang jauh sedang kafilah itu berada di
bawah kamu. Sekiranya kamu mengadakan persetujuan (untuk menentukan
hari pertempuran), pastilah kamu tidak sependapat dalam menentukan hari
pertempuran itu,

akan tetapi (Allah mempertemukan dua pasukan itu) agar
Dia melakukan suatu urusan yang mesti dilaksanakan, yaitu agar orang
yang binasa itu binasanya dengan keterangan yang nyata dan agar orang
yang hidup itu hidupnya dengan keterangan yang nyata (pula).
Sesungguhnya Allah Maha Mendengar lagi Maha Mengetahui,
43. (yaitu)

ketika Allah menampakkan mereka kepadamu di dalam mimpimu
(berjumlah) sedikit.

Dan sekiranya Allah memperlihatkan mereka kepada
kamu (berjumlah) banyak tentu saja kamu menjadi gentar dan tentu saja
kamu akan berbantah-bantahan dalam urusan itu, akan tetapi Allah telah
menyelamatkan kamu. Sesungguhnya Allah Maha Mengetahui segala isi hati.
44.

Dan ketika

Allah menampakkan

mereka kepada kamu sekalian, ketika
kamu berjumpa dengan mereka

berjumlah sedikit pada penglihatan matamu
dan

kamu ditampakkan-Nya berjumlah sedikit pada penglihatan mata
mereka,

karena Allah hendak melakukan suatu urusan yang mesti
dilaksanakan. Dan hanya kepada Allah-lah dikembalikan segala urusan.
45. Hai orang-orang yang beriman, apabila

kamu memerangi pasukan
(musuh), maka berteguh hatilah kamu dan

sebutlah (nama) Allah sebanyak-banyaknya
Jika Allah SWT adalah Tuhan yang maha kuasa maka Ia tidak perlu menipu. Betul ? HA...7X
Pertanyaannya sekarang adalah jika Muhammad, kekasih Allah SWT saja ditipu, apa yang bisa anda harapkan dari Allah SWT ?. Ha...7x
Jadi murtad dari Islam sebelum terlambat. Mati dalam Islam anda pasti masuk neraka sesuai dengan QS 19:71. Ha...7x
Tuhan Yesus mengasihi anda.
Amin.